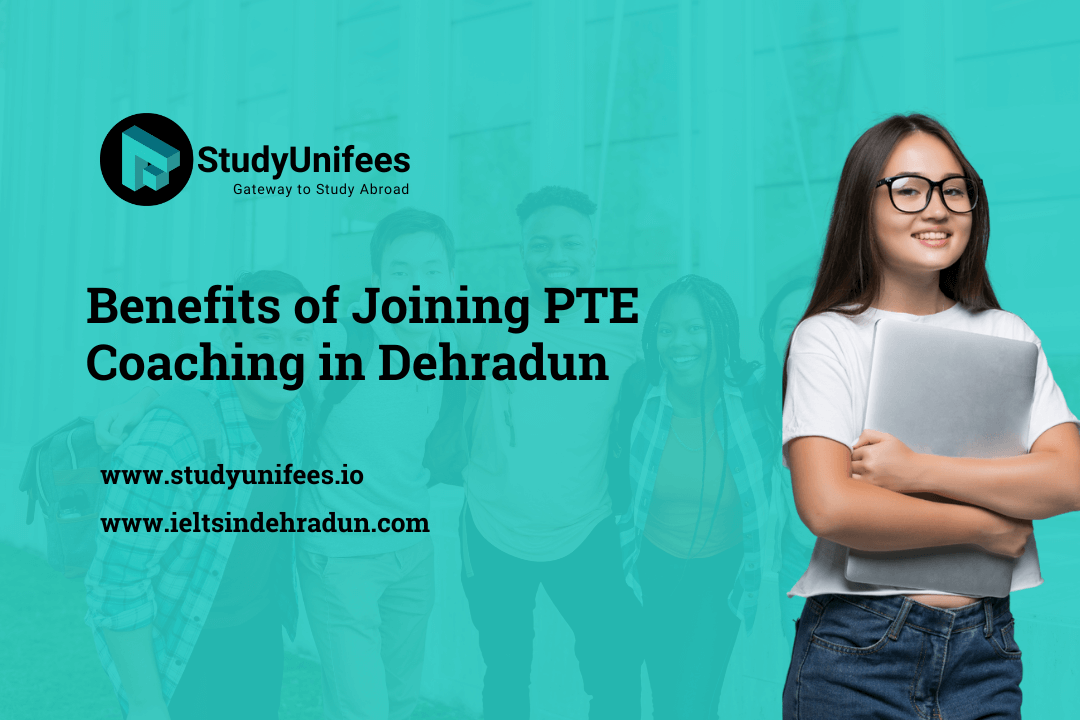 Welcome to our blog on PTE coaching in Dehradun! If you want to enhance your English language skills and achieve a high score in the PTE exam, you have come to the right place.
Dehradun, known for its serene environment and excellent educational institutions, offers top-notch PTE coaching that caters to the needs of aspiring test-takers.
In this blog, we will explore the various aspects of PTE coaching in Dehradun, including the benefits, teaching methodologies, and success stories of students who have achieved their desired scores. So, let's dive in and discover the world of PTE coaching in Dehradun!
Preparing for the PTE (Pearson Test of English) can be challenging, especially if you need to become more familiar with the format and structure of the test. Many candidates opt for PTE coaching classes to ensure success in the exam. Dehradun, known for its reputed coaching centers, offers excellent options for PTE preparation.
1. Improved Test Scores
One of the primary benefits of attending PTE coaching classes is the significant improvement in test scores. PTE coaching centers in Dehradun are equipped with experienced and qualified trainers who understand the exam pattern and scoring criteria. They provide valuable insights into each test section, including speaking, writing, reading, and listening, helping you identify your strengths and weaknesses. With personalized attention and guidance, you can enhance your skills and achieve better scores in the PTE exam.
2. Enhanced Speaking Skills
The PTE speaking section evaluates your ability to express your thoughts coherently and fluently. Joining PTE coaching classes in Dehradun can prove to be highly beneficial in improving your speaking skills. Trainers at coaching centers focus on enhancing your pronunciation, intonation, and vocabulary, enabling you to communicate effectively. Through mock speaking tests and regular practice sessions, you learn to deliver your responses confidently and clearly, which is essential for scoring well in this section.
3. Effective Time Management
Time management is crucial in the PTE exam, as each section has a specific time limit. Coaching classes in Dehradun provide you with strategies and techniques to manage your time efficiently during the test. Trainers guide you on allocating time for different sections, prioritizing tasks, and completing them within the given time frame. By practicing time-bound mock tests and receiving feedback, you can master the art of time management, ensuring that you meet all sections of the exam within the allocated time.
4. Comprehensive Test Preparation
Joining PTE coaching classes in Dehradun ensures you receive comprehensive exam preparation. Coaching centers offer a structured curriculum covering all PTE test sections in detail. From understanding the scoring criteria to learning effective strategies, you gain comprehensive knowledge and skills required to excel in the exam. With access to resources such as practice materials, sample questions, and mock tests, you can familiarize yourself with the exam format and gain confidence in your abilities.
5. Access to Expert Guidance
PTE coaching classes in Dehradun provide you with access to expert guidance throughout your preparation journey. The experienced trainers deeply understand the nuances of the PTE exam and can offer valuable insights and tips to help you succeed. They assess your progress, identify areas that need improvement, and provide targeted guidance to address those areas. Their expertise and support ensure you are well-prepared and confident on exam day.
6. Increased Confidence
Confidence is vital in performing well in any exam; the PTE is no exception. PTE coaching classes in Dehradun focus on honing your language skills and boosting your overall confidence. Through continuous practice, constructive feedback, and encouragement, trainers help you build self-assurance in your abilities. This increased confidence translates into better performance during the test, allowing you to showcase your true potential.
7. Opportunity for Networking
Joining PTE coaching classes in Dehradun allows you to meet and interact with fellow PTE aspirants. It can be highly beneficial as it will enable you to exchange ideas, discuss strategies, and learn from each other's experiences. You can form study groups, participate in group discussions, and engage in collaborative learning, which can further enhance your understanding of the test and provide additional support during your preparation.
Why Study Unifees is the Best PTE Coaching in Dehradun
If you are reading this blog, this means you are planning to take the PTE exam and want to achieve a high score and fulfill your dreams of studying or working abroad. Study Unifees, the best PTE coaching in Dehradun, is here.
Here are 5 reasons to select Study Unifees as the best PTE Institute :
1. Expert Trainers
At Study Unifees, you will get a team of expert trainers with years of experience teaching PTE who are well-versed in the exam pattern and requirements. They are dedicated to helping you understand the nuances of the exam and provide you with the tools and strategies to excel.
2. Comprehensive Study Material
You will get the right study material to make a difference in your preparation. Study Unifees has curated a comprehensive set of study materials covering all PTE exam aspects. Study materials are designed to be easy to understand and follow, ensuring you grasp the concepts effectively.
3. Personalized Attention
Study Unifees provides personalized attention to each student. Every student has unique strengths and weaknesses, and Study Unifees tailor our teaching methods accordingly. Also, small batch sizes ensure you receive individual attention from trainers, allowing you to clarify doubts and improve your weak areas.
4. Mock Tests and Practice Sessions
Study Unifees conducts regular mock tests and practice sessions to help you gauge your progress and identify improvement areas. Their mock tests are designed to simulate the actual PTE exam, giving you a real-time experience and boosting your confidence.
5. State-of-the-Art Infrastructure
Most importantly, their coaching center has state-of-the-art infrastructure to provide a comfortable and conducive learning environment. It has spacious classrooms, audio-visual aids, and high-speed internet connectivity to ensure that your learning experience is seamless and hassle-free.
Conclusion
Joining PTE coaching classes in Dehradun offers several advantages for aspirants preparing for the PTE exam. From improved test scores to enhanced speaking skills, effective time management to comprehensive test preparation, access to expert guidance, increased confidence, and networking opportunities.
When selecting the best PTE coaching in Dehradun, Study Unifees stands head and shoulders above the rest. With expert trainers, comprehensive study material, personalized attention, mock tests, and state-of-the-art infrastructure, Study Unifees provides the best possible preparation for the PTE exam.
So What are you Waiting for ! Join Study Unifees today and take a step closer to achieving your dreams.