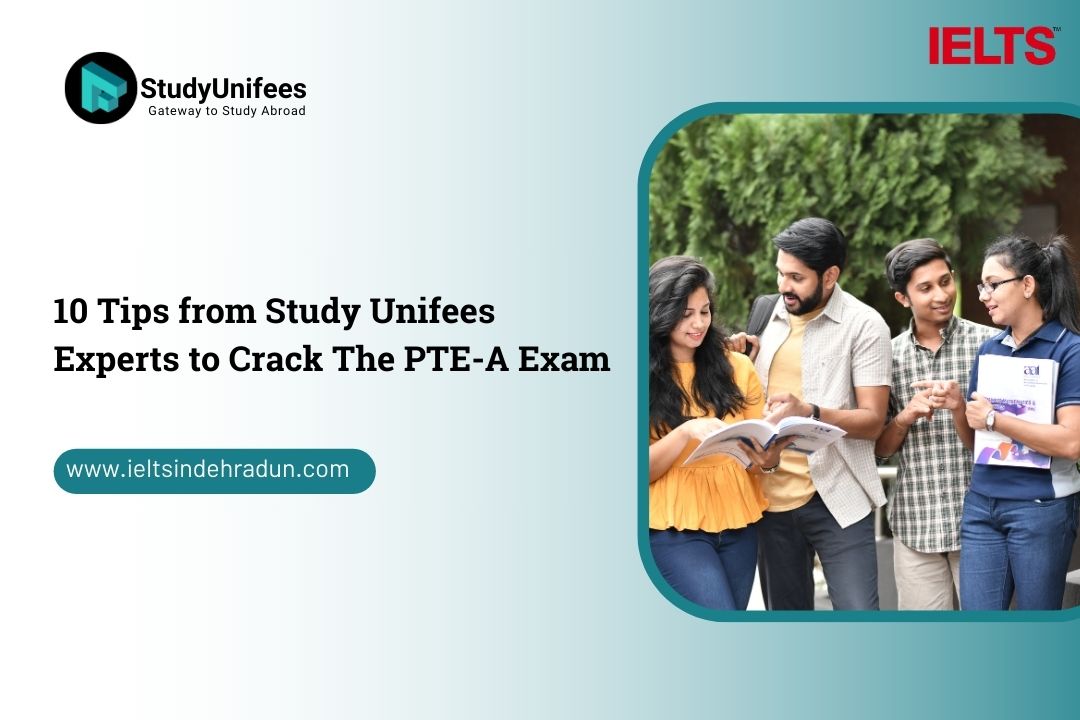 When it comes to achieving success in the PTE Academic Test, having the best PTE coaching can make all the difference. We sincerely advise students to refrain from doing a simple Google search like 'PTE classes near me'. Instead, you should comprehensively evaluate the quality institutes are providing in their classrooms. We hope this article will be helpful in this regard.
At Study Unifees, located in Dehradun, India, we are dedicated to equipping you with the knowledge and strategies needed to excel in the PTE-A exam. In this comprehensive guide, we will not only introduce you to the PTE Academic Test but also provide insights into the specific question types within each section. Following this, we will delve into the most crucial part: 10 invaluable tips from our expert instructors at Study Unifees, aimed at enhancing your chances of acing the PTE-A exam and providing the best PTE coaching. Study Unifees is widely cited as the best PTE institute in the region- let's start finding out why.
Introduction to the PTE Academic Test
The Pearson Test of English Academic (PTE-A) is a computer-based English language proficiency test widely recognized by universities and institutions across the globe. This test evaluates your English language skills across four main sections, each designed to assess different aspects of your language proficiency:
1. Speaking & Writing (77-93 minutes):
Read Aloud
Repeat Sentence
Describe Image
Re-tell Lecture
Answer Short Questions
Summarize Written Text
Essay
2. Reading (32-40 minutes):
Multiple-choice, choose a single answer
Multiple-choice, choose multiple answers
Re-order paragraphs
Reading: Fill in the blanks
Reading & Writing: Fill in the blanks
3. Listening (45-57 minutes):
Summarize Spoken Text
Multiple-choice, choose a single answer
Multiple-choice, choose multiple answers
Fill in the blanks
Highlight correct summary
Multiple-choice, choose single answer
Select missing word
Highlight incorrect words
Write from dictation
4. Writing (40-50 minutes):
Summarize Written Text
Essay
The PTE-A exam is designed to evaluate your proficiency in English by assessing your ability to understand, communicate, and write in English. Each section plays a vital role in this assessment and requires specific skills and strategies to succeed. Study Unifees is the best PTE institute in the region because it provides a balanced approach between the various sections of the PTE and focuses on holistic development in students. Let's explore the skills and content evaluated in each of the four sections of the PTE-A test.
Content and Skills Tested in PTE Sections
Listening: The PTE Listening section assesses your ability to understand spoken English across various contexts. It evaluates your comprehension, note-taking, and listening skills, which are essential for success in academic and professional environments. Tasks within this section include summarizing spoken text, multiple-choice questions, and listening for missing words. Being a proficient listener is crucial for understanding lectures, conversations, and interviews in English.
Reading: The Reading section of PTE evaluates your ability to comprehend and analyze written texts. It includes tasks such as multiple-choice questions, re-ordering paragraphs, and filling in the blanks. This section not only tests your reading skills but also your logical thinking and understanding of the structure and content of written materials. Effective reading strategies are necessary to tackle different types of texts and questions within the given time frame.
Writing: In the Writing section of the PTE Academic exam, you will be assessed on your ability to express ideas in written English. This section includes tasks like summarizing written text and writing essays. To succeed, you need to showcase your vocabulary, grammar, and organization skills. Your ability to convey information clearly and concisely in written form is a crucial component of the PTE-A exam.
Speaking: The Speaking section of the PTE exam assesses your oral communication skills in English. Tasks within this section include reading aloud, repeating sentences, describing images, and providing spoken responses to various prompts. To excel in this section, you need to demonstrate fluency, pronunciation, and the ability to convey ideas clearly and coherently when speaking English.
Now, let's dive into the heart of this article – the 10 expert tips from Study Unifees to help you succeed in the PTE-A exam.
10 Tips from Study Unifees Experts to Crack The PTE-A Exam:
Time Management: Effective time management is crucial when dealing with the PTE-A exam. Our experts will guide you in allocating your time wisely, ensuring that you complete all tasks within the stipulated time frames.
Mastering Templates: Understanding specific templates for essay writing and summaries will provide you with a structured approach to these tasks. Our experts will introduce you to these templates, making the writing tasks more manageable and organized.
Listening Skills: The Listening section of the PTE-A exam requires active listening and effective note-taking. Our instructors will help you develop these skills, critical for tasks like re-telling lectures and summarizing spoken text.
Reading Strategies: Our experts will provide you with strategies for tackling reading tasks, including re-ordering paragraphs and filling in the blanks. Learning to identify the main idea and supporting details is crucial for success in this section.
Speaking Fluency: Fluency is paramount in the Speaking section of the PTE-A exam. Our experts will provide exercises and techniques to enhance your speaking fluency, ensuring that you express your ideas clearly and confidently.
Pronunciation Practice: Good pronunciation is essential. Our instructors will work with you to improve your pronunciation and intonation, helping you meet the criteria for a high PTE score.
Vocabulary Enhancement: Expanding your vocabulary is crucial for both the Writing and Speaking sections. Our experts will help you build your vocabulary and show you how to use it effectively in your responses.
Regular Practice: Consistent practice is key to success in the PTE-A exam. Our instructors will guide you on how to structure your daily practice sessions and provide ample resources to practice with.
Mock Tests: Regularly taking mock tests is essential for assessing your progress and identifying areas that need improvement. Our experts will help you understand the significance of mock tests and how to make the most of them.
Stress Management: The PTE-A exam can be stressful, and stress can significantly impact your performance. Our experts will teach you how to manage test-related stress, stay calm, and maintain focus during the exam.
In your quest for the best PTE coaching and the best PTE institute, Study Unifees stands out as your ultimate destination. Our holistic approach to PTE-A preparation, complete with expert guidance and a comprehensive understanding of the test's structure and content, ensures that you are fully equipped to crack the PTE-A exam with confidence.
The 10 invaluable tips from our experts are just the tip of the iceberg. We provide a complete package to guide you on your journey to PTE-A success, whether it's for academic pursuits or immigration purposes. With Study Unifees, you can unlock a world of opportunities and reach your goals. We cover all the bases, ensuring that you have the knowledge, skills, and confidence to excel in the PTE-A exam.
Prepare with us, and you'll be well on your way to achieving your dreams and making them a reality. Choose Study Unifees for the best PTE coaching and embark on your path to success.