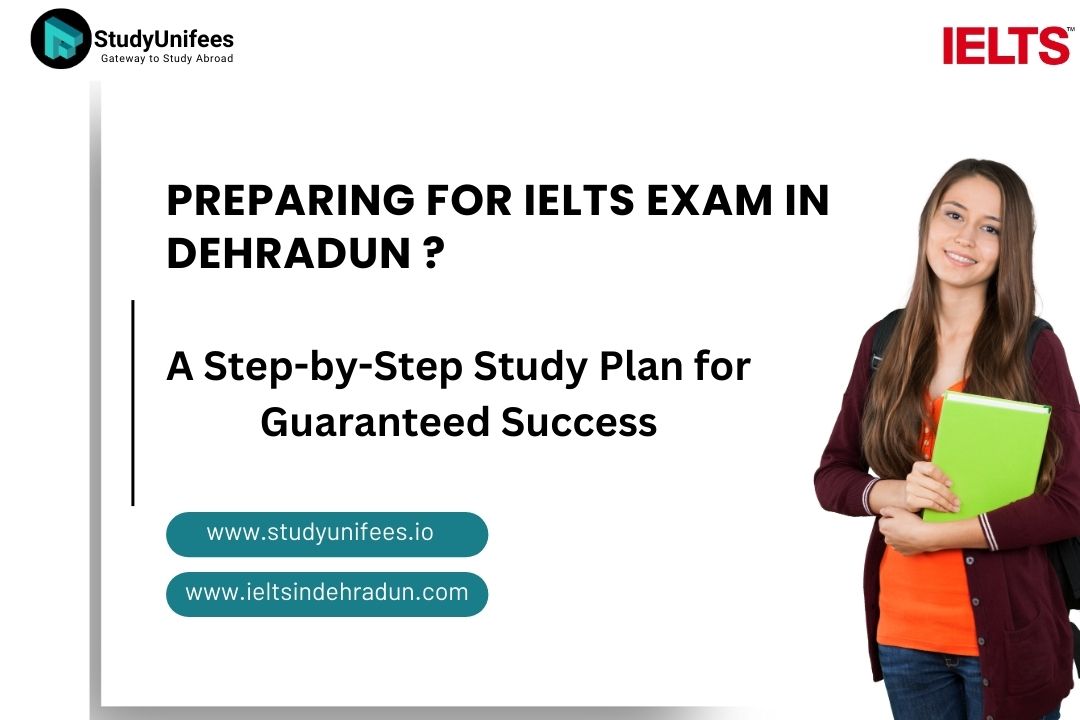 Are you planning to take the IELTS in Dehradun city? Congratulations on taking this important step towards achieving your dreams! As one of the most recognized English language proficiency tests worldwide, the IELTS exam is crucial in opening doors to higher education, immigration opportunities, and career advancements.
Finding the best IELTS coaching in Dehradun is crucial to ensure you receive expert guidance and support throughout your preparation. These coaching centers provide comprehensive resources, experienced instructors, and a supportive learning environment to help you excel in all four exam sections.
However, to ensure success, it is essential to have a well-structured study plan in place.
In this blog, we will guide you through a step-by-step study plan to ensure your success in the IELTS exam while exploring the best IELTS coaching institutes in Dehradun.
Why Choose Dehradun for Your IELTS Preparation?
There are several reasons why Dehradun is an excellent choice for your IELTS preparation.
Firstly, Dehradun is home to numerous renowned IELTS coaching centers and institutes. These institutes have experienced faculty who are well-versed in the IELTS exam pattern and can provide you with comprehensive guidance and support throughout your preparation journey. The availability of such quality coaching centers ensures that you receive the best possible training to excel in the IELTS exam.
Secondly, City offers a peaceful and conducive environment for studying and is nestled in the lap of nature, surrounded by the majestic Himalayan mountains and lush greenery. This serene atmosphere helps in reducing distractions and allows you to focus solely on your preparation for IELTS in Dehradun .
Furthermore, Dehradun is a popular education hub, attracting students from all over the country. This diverse student community allows you to interact and engage with fellow IELTS aspirants, enabling you to exchange ideas, practice speaking skills, and learn from each other's experiences. The collaborative learning environment in Dehradun can greatly enhance your IELTS preparation.
Now that you know why to choose IELTS in Dehradun for your preparation, let's dive into a step-by-step study plan that will set you on the path to guaranteed success.
Step-by-Step Study Plan for Guaranteed Success
Step 1: Understand the IELTS Exam
Before you start your IELTS journey, familiarize yourself with the format of the exam. Understand the four sections: Listening, Reading, Writing, and Speaking. Know what to expect in each section and how they are scored.
Step 2: Assess Your Current Level
Take a practice test to assess your current proficiency in English. This will help you identify your strengths and weaknesses and set realistic goals for improvement.
Step 3: Create a Study Schedule
Develop a study schedule that covers all four sections of the IELTS exam. Allocate specific time for each section, focusing on your weaker areas while maintaining regular practice in all sections.
Step 4: Practice Regularly
Consistent practice is the key to success in the IELTS exam. Work on improving your listening and reading skills by using a variety of resources like podcasts, news articles, and practice tests. For writing and speaking, seek guidance from your coaching institute and practice under timed conditions.
Step 5 : Take Mock Tests
Most coaching institutes offer regular mock tests that simulate the real IELTS exam conditions. These tests are essential to gauge your progress and build confidence.
Step 6: Work on Time Management
IELTS is a time-bound exam, so managing your time effectively during the test is crucial. Practice answering questions within the allotted time to ensure you can complete each section.
Step 7: Improve Speaking Skills
Engage in conversation with native English speakers or fellow test-takers to enhance your speaking skills. Confidence and fluency play a significant role in the Speaking section.
Step 8: Revise and Refine
Focus on revising and refining your skills in the final weeks leading up to the exam. Review grammar rules and vocabulary, and practice writing essays and reports.
Step 9: Stay Relaxed and Confident
On the day of the exam, stay relaxed and confident. Trust in your preparation and give your best effort in each section.
Step 10: Take guidance from IELTS Institute in Dehradun
Choose one of the best coaching centers for IELTS in Dehradun based on your research and personal preferences. Joining a coaching institute can provide you with structured guidance, study materials, and access to experienced trainers.
Conclusion
In conclusion, preparing for IELTS in Dehradun can be a rewarding experience, given the serene environment and access to some of the best coaching institutes. Follow this step-by-step study plan diligently, and success in the IELTS exam is guaranteed.
Sometimes, it can be daunting, but with Study Unifees, the best coaching institute in Dehradun, you can feel confident and well-prepared. Our proven track record of success and satisfied students speaks for itself.
Take advantage of the opportunity to join our esteemed institute and embark on your journey towards IELTS success.
To enroll in our IELTS preparation course in Dehradun, visit our website https://ieltsindehradun.com/ or call us at +9180060 04434. Our friendly team will be more than happy to assist you and answer any questions you may have.