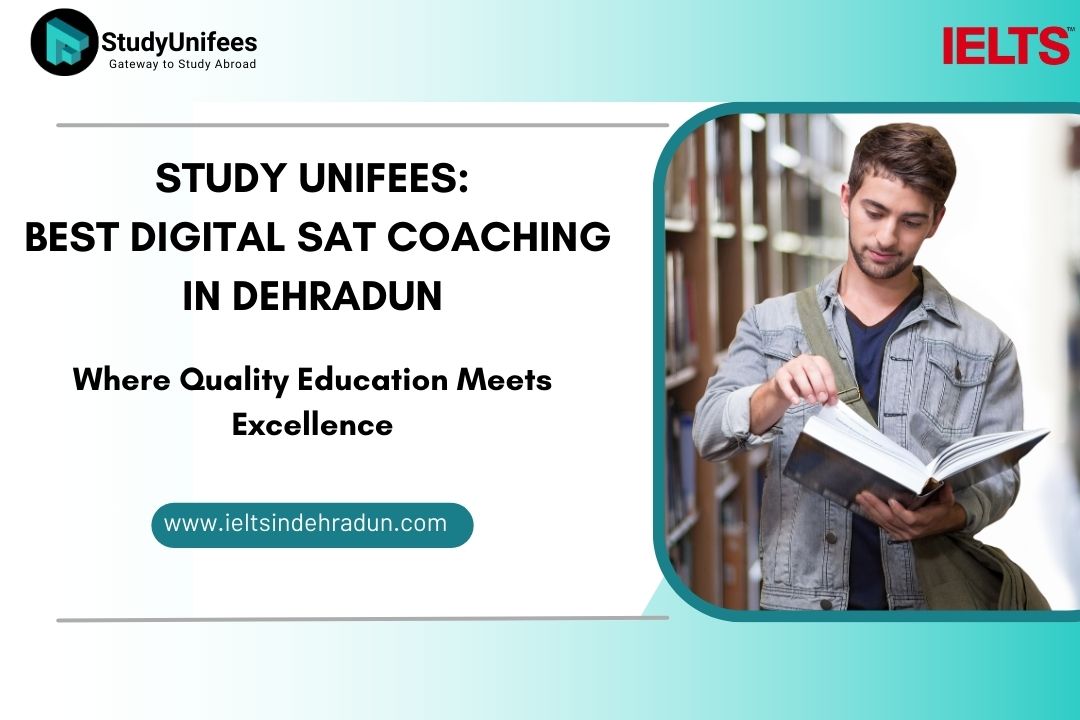 In the competitive world of college admissions, scoring well on the Digital Scholastic Assessment Test (SAT) can make all the difference. For students the search for the best Digital SAT coaching in Dehradun and surrounding areas, often leads them to Study Unifees. But what sets Study Unifees apart as the premier SAT coaching institute in Dehradun? In this comprehensive blog, we'll delve into the world of SAT coaching, explore why Study Unifees is the ideal choice for SAT preparation, and how it combines quality education with excellence to help students achieve their goals.
The Digital SAT is Here!
As you probably know, the SAT has gone digital and it is now a much shorter test with more streamlined Reading and Writing and Math. The Digital SAT is also a multistage adaptive test now. Study Unifees stays at the cutting edge of all innovations and our teachers now impart the best strategies to get the adaptive payout in the new adaptive Digital SAT.
Get the best instruction on navigating the new Digital SAT, taking advantage of the on-screen calculator and understand how to take advantage of a great performance in the mixed difficulty level section to maximize your score in the adaptive sections.
Why Digital SAT Coaching Matters
Before we dive into the details of Study Unifees, let's understand the significance of SAT coaching and why it is essential for aspiring college students. The Digital SAT is a standardized test widely used for college admissions in the United States. It assesses a student's readiness for college and provides colleges with a common data point that can be used to compare all applicants.
A high SAT score can open doors to prestigious colleges and universities, potentially leading to scholarships and a brighter academic future. However, achieving a high SAT score is no easy feat. It requires not only a strong understanding of the test format and content but also effective test-taking strategies, time management skills, and consistent practice.
This is where Digital SAT coaching comes into play. A reputable SAT coaching institute can provide students with expert guidance, access to quality study materials, and a structured curriculum that covers all aspects of the SAT. Let's explore why Study Unifees is the preferred choice for SAT coaching in Dehradun.
Study Unifees: Where Quality Education Meets Excellence
1. Expert Faculty:
At the heart of Study Unifees lies its exceptional team of educators. Our SAT coaching institute in Dehradun takes pride in having a faculty of experienced and highly qualified instructors. Each member of our faculty is well-versed in the SAT exam format, content, and scoring. Moreover, they have a proven track record of helping students achieve their desired SAT scores.
Our instructors don't just teach; they inspire and guide students to reach their full potential. They understand that every student is unique, and they tailor their teaching approach to cater to individual learning styles and needs. This personalized attention is invaluable in helping students grasp challenging concepts and improve their SAT performance.
2. Comprehensive SAT Preparation:
Study Unifees offers a holistic SAT preparation program that leaves no stone unturned. Our curriculum covers all sections of the SAT with wall-to-wall coverage of all Reading and Writing skills and in-depth classes on Math theory and strategy. We understand that success on the SAT requires a well-rounded approach, and our program is designed to ensure just that.
Our students receive in-depth subject knowledge, strategies for tackling different question types, and guidance on improving their critical thinking and analytical skills. Through a combination of classroom instruction, practice tests, and assignments, students are well-prepared to excel on test day.
3. Small Class Sizes:
One of the key advantages of studying at Study Unifees is our commitment to maintaining small class sizes. Unlike large, overcrowded classrooms where students might feel lost in the crowd, our smaller classes allow for personalized attention. Instructors can interact closely with each student, addressing their questions and concerns promptly. This student-centric approach fosters a supportive and conducive learning environment.
4. Mock Tests and Practice Materials:
Practice is the cornerstone of success on the SAT. To ensure that our students are well-prepared, Study Unifees provides an abundance of Digital SAT practice materials, including mock tests that simulate real exam conditions. These practice tests are invaluable in helping students become familiar with the test format, manage their time effectively, and develop strategies for tackling different question types. Regular practice builds confidence and helps students perform at their best on test day.
Looking for 'Digital SAT Coaching Near Me'? Study Unifees is Conveniently Located
For students and parents searching for "SAT coaching near me" in Dehradun, Study Unifees is conveniently situated to meet your needs. We understand that commuting long distances can be challenging, especially when preparing for a demanding test like the SAT. Our easily accessible location ensures that you won't have to travel far to access top-quality SAT coaching.
Your Path to Success Starts Here
Study Unifees has earned its reputation as the best SAT coaching in Dehradun for a reason. Our commitment to delivering quality education, our team of experienced faculty members, and our student-centric approach are the pillars of our success.
We don't view SAT coaching as just another service; we see it as an investment in your future. Choosing the right SAT coaching in Dehradun can make all the difference in achieving your desired SAT score and securing admission to your dream college. With Study Unifees, you're not just preparing for a test; you're preparing for your future.
Don't wait any longer. Join Study Unifees today, and let us help you reach your SAT goals. Your journey to excellence begins here.
Conclusion
In the competitive landscape of Digital SAT preparation, Study Unifees stands tall as the best Digital SAT coaching in Dehradun. With a team of dedicated and experienced educators, a comprehensive SAT preparation program, small class sizes, and abundant practice materials, Study Unifees is committed to helping students achieve their SAT goals. If you're serious about your college aspirations, don't compromise on your SAT preparation. Choose Study Unifees, where quality education meets excellence, and take the first step toward a brighter academic future. Your SAT success story begins here!